Source: http://www.pcworld.com
Couch potatoes, rejoice: The remote control has come a long way in recent years. Gone are the days when you had to dig under the couch cushions prospecting for the clicker that controls the volume, and then fumble through the end-table drawers in search of the one that changes the channel. Today's remote controls can do it all.
And you have plenty of choices when shopping for a suitable controller. You can opt for the highest-end product, likely featuring a touch-screen and the ability to control everything from your TV to your PC-based music library to your thermostat. Or you can go with the familiar look and feel of a button-based, bar-style remote. If you don't want to buy a new device, you can download an app or buy an appcessory that turns your smartphone or tablet into a universal remote.
No single option is right for everyone. You may prefer to use your smartphone as your remote, or you may scoff at the thought of terminating a call just to change the channel. Not sure which option is right for you? Read on to learn more about four of the coolest remote controls on the market today.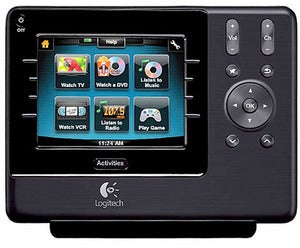 Option 1: Touchscreen Hub
Logitech's $350 Harmony 1100 Advanced Universal Remote looks more like a tablet computer than like a remote control. It features a 3.5-inch screen with a backlight, so you can view it in the dark; and it uses both IR and RF wireless technology, so it can control devices that aren't in its line of sight. This remote connects to Windows and Mac PCs, where you can use Logitech's Harmony software to program the device to work with up to 15 of your gadgets. You can also program it to control multiple devices for activities such as "Listen to Music" and "Watch a Movie."


Option 2: Bar-Style Remote–and Beyond
Though the TRC-1280 Handheld Video Color Touchscreen Remote from Universal Remote may look like a standard bar-shaped remote control, it's anything but. This $899 Wi-Fi-based device is actually something of a whole-house-controller. You can use it to control your TV and home entertainment devices, as well as your security, lighting, temperature, and A/V components. The TRC-1280 comes with a 2.8-inch touchscreen that displays images from security cameras (so you can see into other parts of your house), and RSS feeds, for times when you want to catch up on the latest news. Universal Remote's products must be purchased from an authorized dealer (you can find one on the company's site), who will program the device to meet your needs.

Option 3: App
Why buy a new piece of hardware when you can adapt a device that you already own to function as a remote control? That's the idea behind the booming market in remote control apps. The trouble is that many of these products can control devices made by only a particular manufacturer. If you're a Comcast Xfinity subscriber, however, you can take advantage of the company's free Xfinity TV app, which lets you use your iOS or Android device to change channels and to browse TV and OnDemand listings. You can even use it to view a limited amount of content on your mobile device. Comcast's newer X1 app adds gesture-based controls. If you're not a Comcast customer, don't despair: Rivals such as Verizon FiOS and DirecTV offer remote control apps, too.
Option 4: App Plus Appcessory
If an app alone doesn't offer the features you want, and you're hesitant to spend hundreds of dollars on a dedicated remote control device, consider a compromise: the appcessory–a piece of hardware that, in combination with an app running on your smartphone or tablet, turns that device into a universal remote. The $70 VooMote Zapper is one such option. This small dongle plugs into any iOS device and works with VooMote's free Zapper app to enable you to use your iPod, iPhone, or iPad to control single devices or multiple home-theater components. In addition, you can customize it to work differently in different rooms.